Technology@ Campus
The innovations and improvements in science and technology are aimed at improving the quality of human life and to improve the quality of education imparted in schools. The Heritage School governing body and founders believe in utilizing modern cutting edge technology to provide outstanding teaching facilities to the students.
The Heritage is considered to be a smart school with the latest technological aids and equipment.
• All the classrooms, infotech centres, labs, libraries, infirmary and staff rooms have latest audio visual teaching aids and computers with high speed internet connection.
• Smart boards are also installed in the classrooms and laboratories.
• We have round-the-clock internet facility for the students and staff through 30 Mbps leased line connection. The school has more than 400 computers for academic and administrative use. Parents are constantly updated about their wards through SMS, E-mail, phone, school website, etc.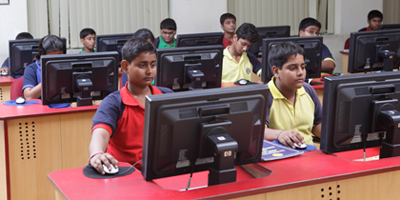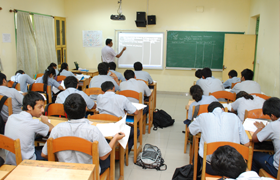 • Each of the blocks has a central public address system.
• All the departments are automated through school management software.
• The school also has an e-Pathshala by means of which multimedia contents for all subjects are made available to classrooms through a centrally hosted content server.
• The school has installed CCTVs in all the main areas of the school building in order to ensure safety and security. It also helps in controlling and maintaining discipline.